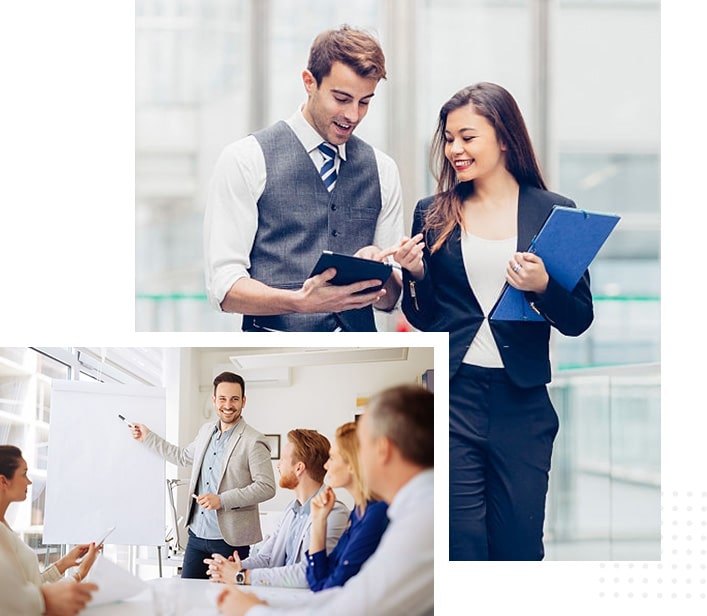 SPTS Portage / Umbrella Payroll
Taylor-made solutions and complete compliance for both contractors and companies
Umbrella Payroll enables any freelancer, consultant or contractor to exercise and develop and independent professional activity, with the protected status of an employee.
It also allows companies to gain access to experienced professionals with a simple, compliant, and competitive Employer of Record (EoR) services.
Solutions for Independant contractors and consultants
Are you a self-employed person, a freelancer, a consultant or an active retiree ? 
You want to develop your own activity as an independent without giving up the benefits of social protection that comes with the employed status?
Starting your own business comes with heavy legal responsibilities and financial risks.  Administrative and legal hurdles can leave you with little to no time to develop your clientele and activity. 
Don't let these constraints stand in the way of you achieving your career goals and growth as an independent consultant.
SPTS – Umbrella Payroll allows you to launch your independent activity while benefiting from the security of an employee's status and its associated social advantages, including the right to unemployment benefits.
In addition, you are insured for all professional risks arising from your independent activity.
In a nutshell, we offer you the freedom of an independent contractor combined with the social safety net and advantages that comes with an employment status. 
Get started with complete independence and and peace of mind. We have got your back.
Solutions for companies, charities and recruitment agencies
Are you a Swiss or foreign company, a recruitment agency or a non-profit organisation?
You wish to hire experienced external professionals for your projects without bearing the associated administrative and legal burdens?  
The complexity of employment procedures in Switzerland can quickly become encumbrances when using external consultants to deliver projects.
Don't let administrative and legal constraints rob you of growth opportunities in Switzerland!
SPTS – Umbrella Payroll and Employer of Record (EoR) services experts provide fully compliant and tailor-made solutions on employability, social security and tax issues to make things easier for you. 
Our experts are fully versed in the Swiss legal, tax and social systems, allowing them to fulfill for you all the administrative and legal requirements, in complete compliance with Swiss local and federal laws.
In a nutshell, we offer a secure way to use external contractors in full compliance with Swiss and international laws and regulations. 
You can focus on getting your work done, we take care of the rest.
Our guarantees: your best advantages
Why work with STPS?
Working with a compliant umbrella company is key in insuring that the rights and obligations of both parties are respected.  At SPTS – Umbrella Payroll, our work is guided by a "Quality & Compliance Charter" to guarantee fully compliant services with the highest standards of quality.  We offer more than expert Umbrella Payroll and Employer of Record (EoR) services for individual contractors and businesses … We offer peace of mind so that you can focus on what matters. 
Complete Compliance
SPTS complies with the Swiss legal framework, including Swiss labour and tax laws. We have the necessary authorisations and operate in strict compliance with the Swiss Labour and Employment Services Act (LSE).
Professionnal integrity
SPTS - Umbrella Payroll services are performed,in a timely manner, with the utmost discretion and efficiency by qualified and experienced professionals.
Top-notch expertise
SPTS Portage offers high quality services. Our experts keep abreast of the trends and developments in the fields of human resources and social security to ensure the highest quality of advice.
Cost-efficient
Get the best value for money with STPS. Our customised approach means you won't be charged for services you may not need. We also offer a competitive sliding scale management fee.
Taylor-made
Whether you are an individual or an organisation, SPTS Portage provides custom-made solutions and pairs you with a dedicated contact person to ensure personalised services.
Complete peace of mind
No hidden cost, no extra bill at the end of the year, no legal hurdles - complete peace of mind
Accessibility
The SPTS team is at your disposal to accompany you throughout our partnership. Our experts speak several languages including French and English.
Confidentiality
We treat all your information in a strictly confidential manner. A Confidentiality Agreement is included in each assignment.
One stop shop
SPTS is a one-stop shop where companies, freelance consultants and recruitment agencies find tailor-made solutions to meet their needs.
Get a free personalised consultation
Contact us to get a free personalised consultation with one of our experts. Because every situation is unique, we take the time to discuss and analyse with you your situation to propose an individualised solution, in line with your specific needs.
Learn how SPTS Portage has helped numerous individual consultants and companies deliver projects locally and internationally with Umbrella Payroll and Employer of Record (EoR) services.
I was contracted with SPTS for 6 months, and my positive experience drives me to give them a five stars review because they deserve it. I worked directly with Youssouf, very supportive, open and responsible person who gives attention to the details and keen to achieve high level of professionality. I highly recommend SPTS
As an NGO worker, the SPTS team helped me with tax and administrative issues at the cantonal level. I highly appreciated their professionalism, reliability and efficiency. Moreover, while providing an excellent service they were always friendly and had the best interest of their costumers at heart.
J.L.
Geneva based NGO employee
We are a non-governmental organisation based in Geneva and are fully satisfied with the services provided by SPTS that we use for our administrative management, including accounting and salary administration. We particularly appreciate their availability and efficiency.
SPTS team are profoundly helpful. I feel extremely lucky to have come across this company, and I am very happy with the service. I strongly recommend them to you.
W.K.
United Nations Consultant
SPTS staff are very responsive and proactive in dealing with my tax needs. I appreciate their personalized service. They make sure that I have complied well with the requirements and in good status with the government.